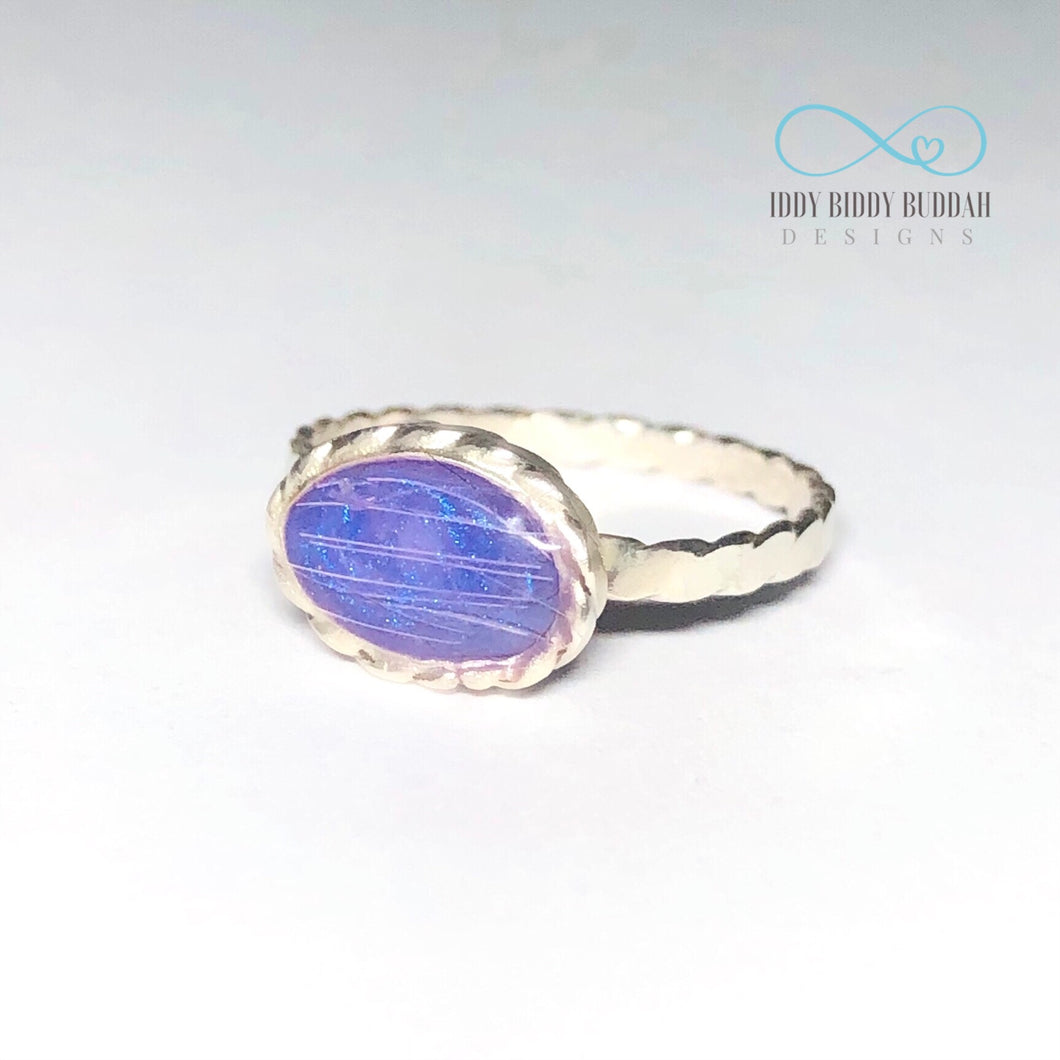 Bella - Oval Sterling Silver Keepsake Ring
Regular price $155.00 $178.00 Sale
Our Bella rings are solid sterling silver rings, ideal for keeping your precious DNA elements preserved and close by at all times.
The ring band and oval bezel have a flattened twist pattern, as each ring is hand crafted you can be sure your keepsake will be totally unique.
Send us your precious inclusions and we will respectfully set them in jewellery grade resin along with your choice of colourants.
The most popular inclusions are:
cremation ashes

hair

pet fur

pet cremation ashes

horse hair

dried/pressed flowers

breast milk

encapsulated placenta

umbilical cord

blood

IVF embryo

fabric

sand
If you can think of it we'll think of a way to make it work in a beautiful piece of jewellery for you.

*** Product Details ***
Materials: Sterling silver, jewellery grade resin.
Ring band options: Flattened twist
Bezel size: approx 6mm x 8mm
**** How to order ****

1) Choose the colours for your ring from the option charts here. You may choose any combination of colourants.
2) Place your order through our checkout. Include details of your DNA elements and colour choices in "Add a note to your order".
3) You will recieve an email with full instructions for sending your precious elements to us.
4) We will let you know when your elements arrive safely in the studio.
5) Your keepsake will be finished approximately 6-8 weeks from the date we receive your DNA elements.
************* IMPORTANT  note about hand crafted keepsakes  **************
When you place your order you are agreeing to the understanding that you are ordering a hand crafted product.
All keepsakes are carefully handmade and will not look like they have been manufactured by machine.
There may be small air bubbles and moulding seams visible.
Every piece I create is unique and these small variances are all part of the charm of a handmade item.
You will receive care instructions with your finished product, please follow these care instructions to keep your piece looking its best.